This last weekend, I participated in the 2012 Global Game Jam. Locally, Startup Edmonton and Gamecamp Edmonton partnered up to combine the Hackathon and Game Jam events together, so it was a little nonstandard, but we still got a team of five people together to build a game based on the abstract theme of this image:
You might recognize this symbol as the Ouroboros, an ancient symbol with a great deal of meaning to a great many different cultures. Very, very fertile ground for a game concept to be formed from.
Aside from knowing that we wanted to do the game jam, though, we weren't sure exactly what sort of game we wanted to create. The initial brainstorming session on friday night was a LOT of fun. In many cultures the Ouroboros represents life, death, and rebirth, and so we used that as our starting point. One of the initial concepts was that of a recurring cataclysm, that would revert to its start state once concluded and the player would have another go and try to change things. Another concept was playing through the same timeline multiple times, with each timeline's actions added to the next, so that by the end you'd be interacting with multiple copies of yourself. We also brainstormed ideas like dying in certain ways allow you to respawn with a new power (jumping off a cliff might let you jump higher, for instance) or even just respawning each time as a different character/animal with a different moveset.
Eventually, though, we came to a concept that immediately felt like a winner: a puzzle game/platformer set in a gauntlet filled with murderous traps, through which the player must navigate. The body of your character would stay there when you died, and could be used as a tool for your next run through the gauntlet. Can't quite jump far enough across a spike trap? That's okay, jump into the middle of the pit and then next time you can use your corpse as a platform to jump the rest of the way. Need to hold down a button that opens a distant door? Get hit by an arrow trap and then drag your body onto the switch!
Not only was there a lot of room for interesting and novel mechanics, but there was the potential for just the right shade of over-the-top black humour. We all couldn't wait to get started.
For our tech needs, we chose Unity3D. It was cross-platform (two of our team members used Macs) and it gave us a big leg up in terms of tech. However, we'd have to invest some time in learning the engine, as nobody other than me had used Unity before, and I wasn't even going to be doing any programming! As the only person there who could do art, I was going to be plugging away in an educational version of 3DS MAX and my copy of Photoshop to build and texture our 3D assets.
I've never done extensive 3D work for games before (I do most of my game art in 2D) and I wasn't familiar with Unity's pipeline, so there was a lot of trial and error. Just getting my first model in-game was an adventure. Models would come out too large, or too small, and all sorts of silliness occurred getting animations working, textures applied, and everything else needed to get the game looking good. It was a great learning experience. My normal reason to work in 2D is that I'm a much more competent 2 dimensional artist than I am in 3D, so I would be able to confidently create my own assets for my games without needing to enlist another artist. However, after two straight days of trial by fire in 3D game asset creation, I now feel comfortable enough working with those sorts of assets that I wouldn't rule out doing 3D projects in the future. I still produce much better results with Photoshop than with 3DS MAX, but I have a solid basis now from which I could learn the trade.
Anyhow, after the first day of work, we were still struggling to get anything working. Unity is a powerful engine and there are a lot of reasons to sing its praises, but it's also absolutely HUGE. It tries to cover everything that a game developer might want to do with their game, and as a result has a huge learning curve. Physics, in particular, was finicky, and gave us trouble for the entire weekend. Unity has a reputation as a great tool for quickly putting together a game prototype, and I can totally see how it would work for that, but the caveat there is that you need to know your way around Unity first… what tool works best for which task, what script functions to call, the limitations of individual components, etc. Trying to build a game prototype while simultaneously learning how to use Unity was painful, and it emphasized to me the lesson I learned from my Ludum Dare entry a while back: when doing rapid development, "know thy tools" is the first commandment.
However, by the second day, everything started coming together. I finished up making 3D assets for the world, and the gameplay mechanics started coming together. I can still recall the moment where someone put all of it together: "Hey, guys, we have a game!" By the end of the day, we had several levels put together, with spikes, spinning blades, and flamethrowers. You could use bodies on the spikes to jump the pits, and flamethrowers would destroy bodies, creating a new sort of obstacle that would need to be worked around. Our sound designer put together a set of hilarious, randomized sounds for player death that still get a grin out of me. It wasn't perfect—physics issues still were cropping up, and we hadn't had time to get anything but the most basic mechanics into the game—but you could play several levels start to finish. It was rough and unpolished, but it was starting to feel like a real game!
We tossed a few titles around, but settled on "Life Goes On", which was a great fit with the lighthearted tone of our game, and focused on putting together a bunch of levels for our presentation at the end of the day.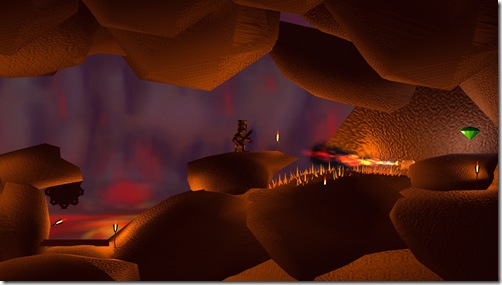 It was time to demo it in front of the rest of the 94 attendees (gulp!) Fortunately, it went really well. We were the second last presentation in a night that saw 18, but we still got a really enthusiastic response! The demo was a hit with the audience, and when it was over it seemed like the entire room had their hands up to ask questions. The first question was "where can I play this", which was really, really gratifying.
In no small part due to the enthusiastic response we got, we've decided to keep going with this project. We're not quite sure how far we'll take it (heaven knows we've got a ton of ideas), but we do know that we want to have something complete and polished enough that we can show to the world. Now that I'm getting this blog going again, I'll try to remember to post updates.