In my last article I mentioned that I had overhauled the animation system in my game. In the hopes that it might be useful to others, I'm going to go over the details of the original system, the issues that prompted a rewrite, the shift to a skeletal animation system, and the current state of things.
Original scheme
In JS we originally had a traditional 2D animation system. That is to say that it was built using sheets of sprites that would be played in sequence to each other to achieve the illusion of motion, much like animated cartoons are done. With everything pre-rendered by our artist, it was very easy to integrate, especially since the graphics engine we're using has built in support for that kind of animation. However, we quickly ran into problems.
The first was that we became dependent on our artist, whose remaining free time had dwindled to almost nothing. I count myself as a decent artist, but I don't have much expertise with the 3D animation software that he was using to render the smooth, consistent animation he was managing. As such, when he became unavailable, we were stuck with the art assets we had, which was not a good long term situation.
The second problem is an extension of the first. When working with pre-rendered animations, you are strictly limited to the material you're given to work with. If you need to do a new kind of action, your only option is to get a new set of renders done. There's no layering, blending, or procedurally altering this sort of animation. It gets particularly hairy when animations interact with each other. For instance, in JS it is possible to walk and jump while aiming, and the player arms need to be independent of the rest of the body. We were able to get around it by doing the arms as rotating sprites and faking their connection to the rest as best we could, but anything more complex might have required murderously complicated animation sheets to pull off.
Moving to skeletal animation
It was because of this that we decided that a more flexible skeletal animation scheme, like those found in 3D games, would better suit our purposes. This is a path we'd initially considered and rejected. Due to the lack of existing systems and tools to work from, we figured it was just too much work. The universe is run on irony, apparently.
For those who aren't familiar with skeletal animation, here's the gist: you take a skeleton—an approximation of the joints and proportions of a character—and attach a skin that is locked to the bones of the skeleton and serve as the rendering component. Animations are built based on keyframes, which are snapshots of the pose. Positions in the animation between keyframes are gathered via interpolation. This setup is ubiquitous in 3D animation.
Our setup was designed such that bones were defined implicitly instead of explicitly. Instead of defining the start and end points of each bone, the skeleton was a hierarchy of joints. Every joint could have child joints, and a bone is implied by that relationship. Each child joint would imply a bone between it and its parent, keeping the skeleton definition as simple as possible.
This type of system has a number of advantages over traditional animation:
It's very easy to make new animations. The process of creating a new animation is not very involved. Create some keyframes, tweak timing and positions, and move on. Visual details are handled in the skinning step, which apply to all animations. This is very important for me, especially now that it's a one man show. I don't have the time to spend to create decent frame-by-frame animations with all the other systems waiting to be implemented.
Changing animations is easy for the reasons above, as well as the nature of keyframes. It's much easier to alter keyframed animations because transitions between individual keys are automatically interpolated, saving a lot of work. While this is also the case when building animations in a 3D program and then rendering, it doesn't come with an exporting and rendering step.
They look nice. Interpolated frames mean that animations are always smooth, no matter how fast or slow you play them. Extremely well-crafted traditional animations can look absolutely gorgeous, true, and the Worms franchise is a perfect example, but you have to put a lot of work into them to get that kind of quality, and usually need to render thousands of frames to keep things smooth. Skeletal animation gives a huge amount of bang for your buck.
Visual variation is easy to add. You can create an entire new character on the same animation set by applying a different skin, which would require rendering a whole new set of sprites in a traditional setup. This is a huge plus for me, since the John Smith game is supposed to be filled with all sorts of characters, and the last thing I want is them looking like a legion of clones.
Flexibility. This is the big advantage. You can do crazy stuff with skeletal animations! Skeletal animations can be mixed, blended, or layered to get a variety of effects. For instance, in JS, a character might be running, aiming, and playing a recoil animation independently of one another seamlessly. Doing the same in a traditional animation system would require prerendering hundreds or even thousands of frames for each character, yet I can do these things effortlessly. Even better, slap a new skin on and I have a new character, with barely any more texture work. Skeletal animation is also a first step towards procedural animation, and is a prerequisite for ragdoll physics. I'm not too interested in procedural animation at the moment, but ragdoll physics are great fun for a kinetic action game!
Of course, it came with downsides. The biggest is that the libraries for doing this sort of thing just don't exist, to my knowledge. I had to write them from scratch, along with the tools for manipulating them. Skeletal animation also requires more CPU resources at runtime to create the interpolated frames on the fly. This required a lot of optimization to get manageable. These I could—and did—eventually overcome, but there were still issues with the implementation.
One iteration later…
The first skeletal animation system was a huge step above traditional animation for me, but it wasn't without its issues. It was a bit of a pain to interface between it and the game, skinning was a nightmare, several features were missing and needed to be faked, and file management was a mess. Some of these were omissions, some were because of insufficient integration with the engine, and some of them were just outright design flaws.
For instance, the file management scheme was not sophisticated enough and vulnerable to human error. Skeletons and individual animations all had their own files. This was the simplest scheme I could think of, and the skeletons could be manually edited in notepad without the aid of another editor, keeping my tool building overhead to a minimum. All in all, not a bad system, but not the best, either. The downside is that keeping track of all the animations was more work than it needed to be. I only ever had a single skeleton and its animations, but the moment that changed (as I eventually intended to have all animated objects managed via skeletons for consistency and ease of editing) keeping everything straight would become far too much of a hassle. I needed to get rid of the file interdependencies.
To top it off, the editor was hilariously bad. Nobody would ever mistake it for something functional.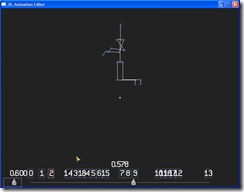 The editor was the cheapest thing I could think to create, using only the bare minimum of GUI functionality, minimal functionality, and an interface that relied far too much on hotkeys to function appropriately. It did its job, didn't take long to make, and was surprisingly intuitive considering that the presentation was an embarrassment to "programmer art". Nevertheless, it desperately needed improvement if the animation system were to see any sort of heavy use.
The process of creating a new editor was a perfect opportunity to remedy my design oversights, so when it came time to redo the back-end I added the following features:
The skeletons are self contained. The original design handled skins, skeletons, and animations separately. Skeletons and animations were in different files, and the skins were hard coded into the exe, because I'd apparently taken leave of my senses and wanted to make my life a living hell. In the new scheme, skeletons, skins, and animations are held within the same file, since they've got no business being separate. On a larger project with multiple artists, it might be beneficial to keep animations within their own files for the purposes of source control, but for a one man show it's just needless complication and is begging for mix ups to occur. The new design means that one file is responsible for all the information that pertains to a skeleton, making each file independent of any other.All three components are also edited with the same tool, keeping things simple and making it easy to cross-reference between them as necessary. With some of the advanced features that were added, this is a very necessary property.
Inverse kinematics. This is of huge benefit while editing animations, because you can move a hand and have the entire arm follow, saving you a lot of fiddling. As an added benefit, it's pretty much a prerequisite for ragdoll physics. Ragdolls only require a bit of physics work on the game side to integrate thanks to this, as they will share the same system for keeping the bones in the right spot relative each other..
Event annotations for keyframes. In the previous system, there wasn't a clean way to tie in-game events to keyframes in animations. The new system lets you attach a string to a keyframe to signify an event, which can be filtered through by the animation control system. This lets me tie things like footfall sound effects to the correct spots in animations.
Skin animation. Thanks to the integration of the skin into the skeleton, animations can swap sprites and even interpolate between texture coordinates for neat effects. This is useful for things like animated effects on stationary objects, facial expressions on characters, faking rotating minigun barrels, etc.
Close integration with the game engine. This loses out on portability, requiring changes to accommodate new graphics engines or physics setups. However, the places where these portability issues pop up are few and far between. The tighter integration with the engine allows the self contained skins, and a way to hook in directly with the attachment system in the engine. This will be used to attach things like weapons to specific joints on the skeleton.
Editing aids. In particular, the ability to specify multiple "tracks" to an animation. Tracks let you build animations in layers, which speeds up creation and editing. With multiple tracks available for building animations, designing new animations on the fly couldn't be easier. Now that I've used them I can't live without them.
Positional offsets. That is, player movement can be specified DIRECTLY in the animation. A walk animation will actually move a player forward, for instance. This is a crucial feature for implementing things like vaulting obstacles, like I mentioned in my last article.
I haven't had a chance to integrate these new features into the game yet, but on the editing front I couldn't possibly be happier. It makes a world of difference compared to that embarrassment of an editor that I'd been working with before.
In future posts, I'll attempt to go in-depth on the technical aspects of the system. Hopefully, that will actually be something useful for people!