It's taken me ages to get something up, and for that I apologize, but between a busy month and having rewritten this set of articles something like three times, it's taken a while! Ah, the joys of exams and perfectionism. Someone slap some sense into me, please!
I was initially just going to dive right into skeletal animation systems, but upon reflection I realized I'm not precisely an expert on the subject. As a result, telling people "how they should do it" or even "how they can do it" seems presumptuous. Instead, it'd be better to say "how I did it" according to my design requirements, as well as what went wrong and what went right. This, of course, is the realization prompted my latest—and hopefully last—rewrite.
Now, why am I saying all this? Well, it'd be a little odd to yap endlessly about how this design fits my requirements without actually saying what those requirements ARE. So, without further babbling, I'm going to introduce the game project that's occupied a decent amount of my off-time in the last few years: John Smith.
Yeah, it's named after the blatantly generic lead character. Sue me.
The Original Design
JS was originally envisioned as a 2D side-scrolling platformer/shooter game. The setting was to be a ridiculous parody of a sci-fi universe, just so we wouldn't be under the illusion that we would take ourselves seriously. The team was never very large, and fell apart as interest waned. I kept it going, though, because, hey, it's a lot of fun making it. And "play testing" it. It's awesome to be able to use "I'm testing my game" as an excuse to waste time!
The gameplay was built around the solid, well-trodden basis of platformer movement with the addition of free aiming and shooting. It was built to be a bit more than a run-and-gun, though, and incorporated a lot of modern shooter elements like regenerative health to create a more tactical experience. You could crouch behind cover, destroy cover with with enough weapons fire, keep NPC's heads down with suppressive fire, and manoeuvre for a better position… and your AI opponents would be doing the same thing. The end result was actually a rather methodical, tactical kind of experience, which one friend of mine compared to "chess in fast-motion". I even made a quick YouTube video of the game in action (and myself failing horribly to avoid getting shot):
There were only a few weapons and two enemy types, but it got the point across. There was a fun game to be had there, given further development. However, it wasn't without its problems:
The engine sucked. The game was written, for the most part, several years ago, and I've become a much better programmer in the meantime. Granted, it isn't actually that bad, but it's got a host of technical issues like code bloat, unwieldy inheritance hierarchies, and precision errors. It also didn't support key features like saving and loading the world state, saving demos of gameplay, or other things that would really be handy or even mandatory in a game like this, and supporting them would require a massive overhaul that would introduce a legion of bugs and issues.
AI was becoming a challenge to work with. The engine was never built with AI support in mind, even though having good AI was one of the core features of the project. In the end, it became very challenging to get information about the world or, god help me, even navigate the bloody thing without the NPCs falling on their digital asses.
Movement was awkward. Putting such an emphasis on tactical shooting requires a lot of freedom of movement, but a 2D side view is perhaps the least accommodating choice of viewpoint! Movement options are restricted to moving forwards and back, and jumping up and down. This is expected, and it's a limitation the design was meant to take into account from day one. However, when vertical movement is the primary way that you bypass obstacles or make interesting manoeuvres, it's not a good thing that jumping accurately is a challenge and feels disconnected from the environment. The challenge is meant to be in the decision making, not in the motor skills required to get from one ledge to another.
Because of these reasons, among others, I elected to do a full rewrite of the game from the ground up. Some of the subsystems and most of the assets would be retained, thankfully, but the basis of the game engine was going to need a re-do.
Problems #1 and 2 have been dealt with in the engine rewrite to a great extent. The new engine supports the following that the original did not:
Tick based updating, so that the game state is updated at a predictable rate to avoid precision errors and framerate-dependent behaviour
Save/load and demos, which are such basic features that I can't believe I forgot to put them in to begin with.
A more flexible camera system that supports zoom and rotation.
Component based objects. Instead of building objects as part of a massive inheritance tree, objects are just containers for components. Components can be for rendering, physics, logic, or anything else, really, and are usually generic. New object types can be created by using different components, or by tweaking the parameters on components, instead of using inheritance.
Attachment system. Components and objects can be attached to arbitrary nodes without issues and will move and rotate with them.
Fully integrated pathfinding system. The system used for space partitioning also doubles as a pathfinding network. Line of sight is also handled efficiently from the same system.
The last problem with the game is a bit harder to deal with, and is requiring that I rethink a fair amount of the movement mechanics. The biggest issue, I'm guessing, is that the player feels disconnected from the environment, and is thereby having trouble translating their thoughts to actions. Characters are represented under the hood by a simple collision polygon, and accelerate themselves according to the type of movements they're trying to do. This is a reasonable approximation, but when your character looks like a human being but manoeuvres like a brick on wheels the behaviour is decidedly suboptimal. For instance, if a ledge is just a little too high when you try to ascend, you'll bounce off it instead of catching on and have to attempt the jump again. Small hitches in the terrain will stop you dead in your tracks, necessitating jumping over small obstacles.
Another issue is how cover is dealt with. If you watch the video above, you'll notice that the crates in the environment block weapons fire but not players. This was a hack that I implemented early on. Just like small ledges in the environment, players couldn't move past crates without jumping, which sent them far above where they wanted to be and made them ridiculously vulnerable, to say nothing of additional collisions with the ceiling. The simplest solution was to simply let players pass at will, and it did a serviceable job, but it came with it's own problems. For starters, moving between cover horizontally became too easy, since you could stay mostly under cover the entire time. There were also issues with sitting INSIDE cover instead of behind it, gaining protection from multiple directions and even letting you stick a weapon out and shoot without fear of retaliation.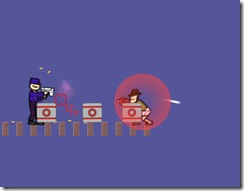 Above: The character on the right can walk towards the middle crate without penalty, and maintains roughly the same amount of cover during the movement.
I think that both of these issues can be dealt with by elaborating upon how the player character moves throughout the environment. Instead of passing through cover, the player should vault over it, and likewise for terrain obstacles. This lets you move over them in an intuitive and smooth fashion, while simultaneously exposing you to a sufficient amount of risk and forcing you to hide behind a specific side of an object, negating the exploits mentioned above. Taking it further, something similar can be done for knee height obstacles, as well as low ledges. Similarly, grabbing onto ledges while airborne would help a lot with near misses when jumping.
Above: Vaulting over crates instead of passing through them not only looks cooler, but makes the player a bigger target during the manoeuvre, necessitating caution.
All this requires some additions to the 2D animation system I wrote for the game. In particular, I needed a way to encode movement into the animation itself (i.e. a run animation changes player position without additional logic) to make the vaulting animations work. This is something I could just have tacked on the existing system and editor, but there were many reasons to turn it into a full-blown rewrite. The original system was awkward and the editor was spartan, to put it charitably. With a laundry list of new features to add, I set out to rewrite the system and editor.
The next few articles will focus on the design of the animation system, and my experiences building the editor with .NET and managed C++.